Seattle Public Schools embarked on the adventure of Collaborative Literacy in grades K–5 two years ago, and we have had the honor of working in partnership to support their implementation. In this collaboration in on-going professional learning, we made plans and revised our thinking several times in our efforts to support teacher practice and student achievement.
"When all students experience high-quality teaching, they are more likely to learn. When all classrooms are filled with high-quality instructional materials, students are more likely to learn. Establishing these conditions for all learners will help close achievement gaps."
Our first decision was to provide professional learning through school-based teams—each school identified key educators to support the on-going professional learning at their school sites. School teams composed of two lead teachers (one for grades K–2 and a second for grades 3–5) and the principal received professional learning from Collaborative Classroom. This plan allowed for role-specific learning but over the year turned out not to effectively support the transfer of learning to the school sites.
Based on our observations in year one, we decided to adapt our plan for year two. Our goal was to provide a more cohesive approach to this professional learning experience, focusing on transfer of knowledge to the school site. Our new approach still involved the site-based teams from year one, but added three components. First, each school would be part of a consistent cohort for professional learning, meeting as a group three times during the year. Second, each of the three professional learning days would be grounded in classroom experiences with students. Third, each of the three days of professional learning would include time and resources for the teams to plan the professional learning experiences for their own school site.
In reflecting on our experiences at the end of year two, we first had to acknowledge that changing practice is hard. We also recognized that in the face of this challenge it is helpful to stop, reflect on the year, and identify the bright spots! Bright spots—positive experiences and growth—might be as simple as acknowledging that "we have a curriculum" or extend to the relational aspect of "we saw an increase in collegial conversation" or be based on the reflection that "this experience changed how I thought and felt about Collaborative Classroom; I now see how the design is comprehensive and so effective in supporting student learning."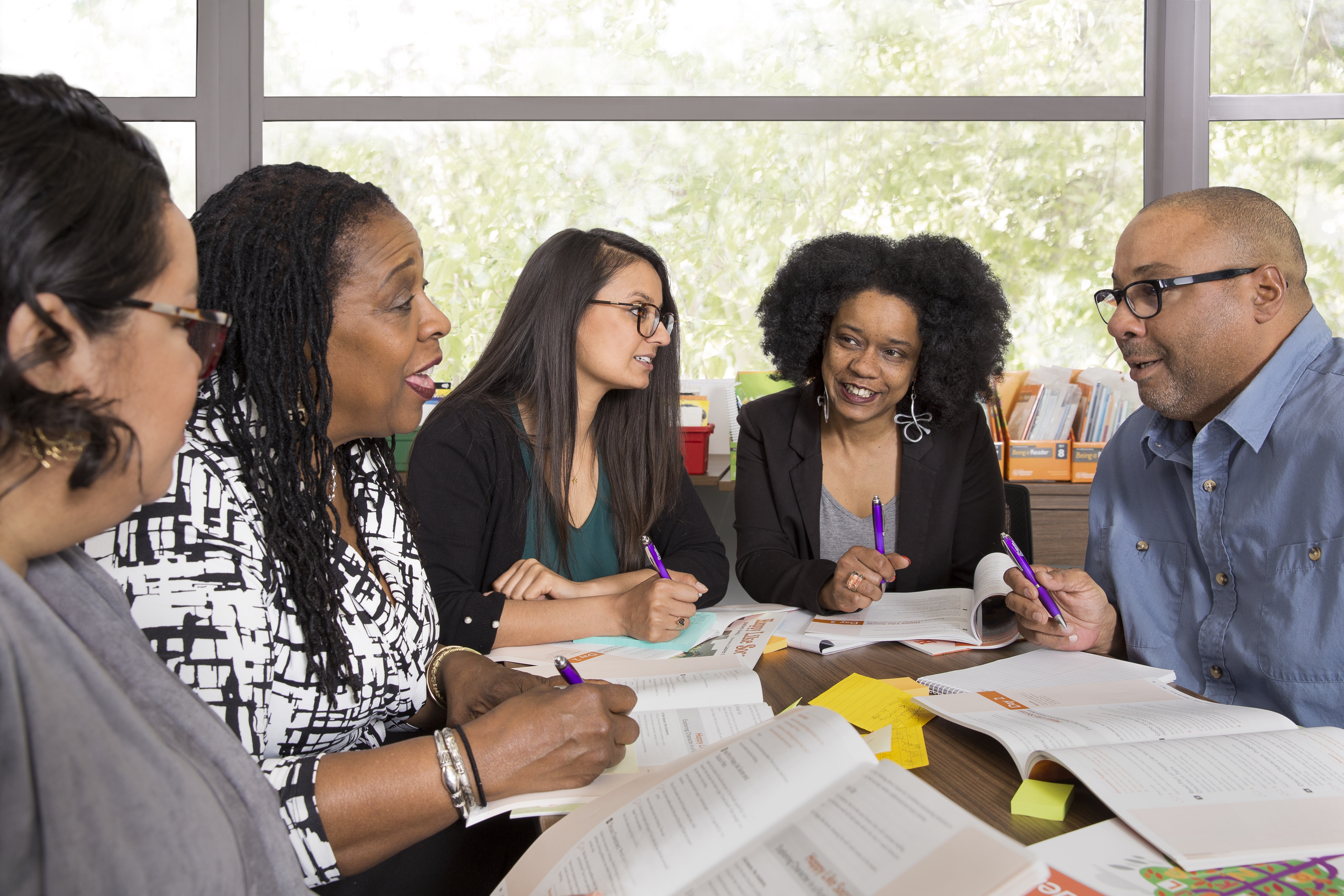 Take a moment to read and acknowledge the bright spots as articulated by teachers who participated in this challenging adventure.
What caught your attention?
For me, the two categories of community and curriculum caught my attention. Why? It confirmed our goal: build a community of educators who are able to gain a deeper understanding of the curriculum and teaching as intended so that they may support their colleagues learning at the school-site.   
"In learning systems, all educators commit to continuous learning and to applying that learning to their own and others' performance. Educators at the district and school levels share responsibility of their own learning and for ensuring great teaching for every student every day."
–Becoming a Learning System, by Stephanie Hirsh, Kay Psencik, and Frederick Brown
What might inspire you to continue with the hard journey?
For me, I'm inspired by the aspects of community mentioned! Why? Change is hard! Change can be made more effective when we engage in a common experience that allows us to laugh and learn together!
"In a learning system, leaders focus not only on individual learners, but also on the broader community of learners to which they belong … Every effective team or community is a learning laboratory in which each person comes to understand and support the group's goals."
–Becoming a Learning System by Stephanie Hirsh, Kay Psencik, and Frederick Brown
Community-focused bright spots:
An Increase in collegial collaboration

The opportunity to meet with principals and teachers across the district to build common understanding

Participating in a community with a shared vision

The opportunity to learn and talk with other school teams as we unpack and improve instruction

Laughing with colleagues

Building collegial relationships across the district

Time, as a school leader, to collaborate with teachers

Collaborative learning for adults (and students)

Laughter

Lifting the caliber of teaching and student learning

Getting to learn with my colleagues in a positive way

Helping my colleagues feel more confident as teachers of literacy and positively impact student growth and learning.

Hearing from others

The opportunity to ask questions and get answers

Collaborating with so many for greater success in reaching/supporting all our students

From an administrator: Observing my teachers grow in their leadership, knowledge, and confidence.

The opportunity to reflect on my own teaching

From an administrator: Seeing how much more excited some of my teachers are about Collaborative Literacy, which grew from the on-going professional learning experiences.
Curriculum-focused bright spots:
Having a curriculum

Developing a better understanding of the bigger picture and the rhyme and reason behind Collaborative Literacy

The chance to explore the curriculum with different people

Diving deeper into why and how the curriculum was created

Understanding what it means to teach as intended

Learning a ton more about Being a Reader

Watching lessons; making my own teaching visible

Observing student progress along the way

Seeing the connection to all the parts

The opportunity to get to know the curriculum