We are excited to share that the Individualized Daily Reading (IDR) libraries from Collaborative Classroom were revised!
How were the IDR libraries originally developed?
The books in the IDR libraries were selected by a group of classroom teachers and children's librarians. The teachers brought their familiarity with comprehension strategies and a classroom perspective to the book-selection process, while the librarians contributed their knowledge of children's literature and what students like to read.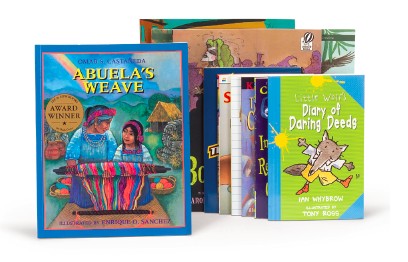 Each of the over 2,000 titles chosen was placed in a grade and library (easy, on-level, challenging) taking into account its F&P level, Lexile level, journal reviews, and student response. The team deliberately balanced gender, culture, genre, and subject so that even individual sets of 15 books would appeal to a variety of readers.
How were the IDR libraries revised?
Of course, there are always great new books that are up to date and appeal to the changing tastes of students. And we wanted to take into account the revision in suggested Fountas and Pinnell reading levels upward.
The nonfiction libraries for grades K-6 were revised with several factors in mind. Nonfiction tends to go out of date as new knowledge is developed, so the team looked at the age of the books and whether the information in them was current. The reviewers also rebalanced the libraries for gender, ethnicity, and range of topics (science, social studies, math).
The fiction libraries for grades K-2, were revised to balance the genres, gender, and ethnicity of the books in each set of 15 books.
The fiction libraries for grades 3-6 are next on the agenda for revision. The team will be working on these over the coming months.
What is included in the IDR libraries?
Each grade-level library is made up of 240 titles divided into two 120-book sets. In each set, 50% (60) of the books are on grade level, 25% (30) are above grade level, and 25% (30) are below grade level. Each 120-book set is in turn comprised of 16 collections of books organized by genre (fiction or nonfiction) and readability (on-level, easy, and challenging). This modular organization gives you the option of purchasing the books that best fit the needs of your students.
How might I learn more?
Review the collection of IDR Blogs here.
Check out these other favorites!
You can also download a flyer about the librarie here.