Jennie McDonald is the Director of Publisher Relations and Rights at Collaborative Classroom. In her work, she manages the integration of authentic children's literature in Collaborative Classroom curricula. In 2015, Jennie spearheaded the Diversity Review Book Project, a comprehensive review of the literature used in our flagship program, Collaborative Literacy. In this post, she reflects on where Collaborative Classroom is now, in 2018, and how we continue to affirm and deepen our commitment to diverse, high-quality books in our work.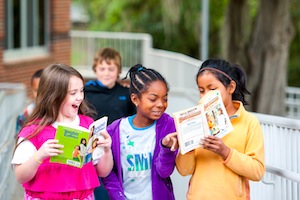 For most of us, classrooms were not only where we learned to read; they were where, through friendships and through books, we learned about ourselves, each other, and the world we would enter as adults. Students absorb messages sent through the stories teachers read aloud, the books on the library shelves, the posters on the walls, and the words they hear from peers and adults. For too long the messages have generally provided a warm welcome for white students and a colder shoulder for everyone else. What has become ever more apparent to us at Collaborative Classroom is the need for diverse books, not only for students of color, but for white students as well. Just as in the classroom community we don't stop bullying only to protect the bullied—it's every bit as important to expand the perspective of the bully—we rely on diverse books to expand the perspective of white students and to give students of color a chance to see themselves reflected in the literature they encounter. Students need to learn to see each other as human beings and search for points of connection, even as they acknowledge and explore their differences.
In order to ensure every child has the best shot at academic success and has a realistic understanding of society and feels a part of it, classrooms must be safe and supportive, and classroom literature must be relevant to the lives of all students. The developers at Collaborative Classroom have always understood this; it's why we integrate social and emotional learning and inclusive literature into our curricula.
Two years ago I initiated the Diversity Review Book Project because I knew through my own mistakes in judgment that even with the right intentions, we often overlook our own biases and our limited worldview. I wanted to find out if we had actually achieved our goals of inclusiveness in our book selections. I also wondered what we would learn from the review team experience itself. (To find out about the background of the review, the process itself, and the results, read my blogs "Diversity in Children's Literature: Check Your Blind Spot, Part One"" and "Part Two".)
Where are we in 2018? What's changed since our Diversity Review was completed?
There were many unexpected benefits from the experience of that review. We as an organization became more comfortable speaking openly about diversity in our programs (and acknowledging the gaps) and we explored opportunities that would help us expand our professional circles (again, and acknowledging the gaps). The review also reaffirmed for us the power of literature to move, inspire, hurt, and educate readers. Perhaps most importantly, we gained new clarity about how these two pillars—authentic children's literature and diversity—are critical to supporting Collaborative Classroom's goals of literacy and a caring classroom community.
Now, nearly every day at Collaborative Classroom, we have conversations about equitable representation in literature. These are nuanced discussions about the specific books in our programs and our libraries. What does the balance of a library set say about culture, economics, gender, class, and power in our society? In the casts of characters in all these books, where are the middle-class African Americans? The Latinx in settled communities? The Native Americans in contemporary society? Where are the Middle Easterners at all? Are gender roles broad and flexible? Do disabled characters participate in the stories? In our zeal to provide broader representation, are we careful about the pictures we are creating of the people in marginalized groups? These types of conversations took place before the Diversity Review, but not as often, not as widely, and not as publicly.
The Changing Industry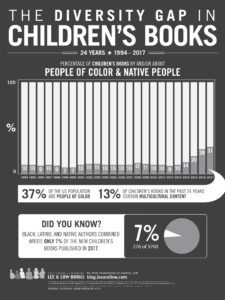 The children's publishing industry has made strides since 2015. In the years preceding the development of Collaborative Literacy, on average only about 12 percent of the children's books published in the US were about people of color. In 2015, the year of our Diversity Review, the percentage jumped to 20 percent, and by  2017 it was 31 percent. These big leaps are good, but even so, they only brought the 24-year average (1994–2017) up to a mere 13 percent (see graphic); an improvement, but the numbers tell us there's still a lot of work to do. After all, about 50 percent of students in the United States are non-white.
There are other hopeful signs. More people of color have been winning the non-race-based awards, such as the Sibert (e.g. in 2016, Funny Bones: Posada and His Day of the Dead Calaveras, written and illustrated by Duncan Tonatiuh; and in 2017, March: Book Three by John Lewis) and the Caldecott (in 2017, Radiant Child: The Story of Young Artist Jean-Michel Basquiat by Javaka Steptoe). Newly created imprints such as Christopher Myers' (Walter Dean Myers' son) imprint at Random House, Simon & Schuster's "Salaam Reads," which focuses on books about Muslim children and families, and Kwame Alexander's new imprint at Houghton Mifflin Harcourt broaden the editorial vision of major publishing houses.  I also see progress every day in the review copies of forthcoming new books that publishers mail to our office, and in the substance of the conversations I'm having with those publishers. Conversation, I'm convinced, is the key to change.
I recognize the power of conversation when I see the debates in the press over what to do with books that are well-told, entrenched in mainstream society, and racist: specifically Little House on the Prairie.* Recently, Caroline Fraser wrote in The Washington Post, "While the answer to racism is not to impose purity retroactively or to disappear titles from shelves, no eight-year-old Dakota child should have to listen to an uncritical reading of Little House on the Prairie. But no white American should be able to avoid the history it has to tell. If the books are to be read and taught today—and it's hard to escape them given their popularity—then teachers, librarians and parents are going to have to proceed armed with facts and sensitivity." Whether you agree with Fraser's article or not, the conversation it inspires is critical for thoughtful change: to be "armed with facts and sensitivity" is a worthy approach for us all these days.
There are two changes that have surprised and pleased me especially since our Diversity Review. The first is that school districts that are considering adopting our curricula now request diversity data on the books in our programs. They want to understand our approach to literature. In essence, districts are demanding that we share their goal of creating classrooms that embrace and educate all children. They expect our materials to reflect the reality of the students in their classrooms, and they aren't just giving lip service; they make purchasing decisions based on this. That's change.
The second change is that teachers are critically engaged with us about the books in our programs. For example, we have three wonderful books used in a series of lessons. Individually they are good, but a teacher pointed out that the three books in a row are about African Americans, and all are set in poverty. That's a problem. We heard it. We are fixing it. While we may not necessarily agree with all the feedback we get, every single comment helps us look at our books and our materials from new perspectives and to rethink what we have created. We welcome the input; we need the input. We are all working toward the same goal, so we are grateful when someone points out something we overlooked.
Continuing the Conversation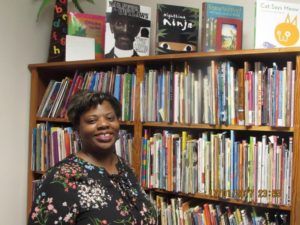 The initial Collaborative Classroom Diversity Review was inspired by a chance meeting with Professor Jonda McNair at the American Library Association conference, and was informed by the many insightful blogs and terrific resources provided by the one-of-a-kind, leading multicultural publisher Lee & Low. Now we want to bring academics, teachers, librarians, and curriculum developers together to continue the conversations that have been inspired by our experiences.
In July, we have a special opportunity to continue these conversations. At the International Literacy Association (ILA) 2018 conference in Austin, Collaborative Classroom is hosting professional-learning sessions devoted to literacy and literature, social-emotional learning, and culturally responsive teaching. I'm proud to be involved in one of these sessions, Classroom Libraries as Windows and Mirrors: Ensuring Diverse, Representative Books for Our Students. For this session, we're partnering with Lee & Low and pulling together a panel of academics, district leaders, and experts from the worlds of publishing and curriculum development.
None of us can make a difference in education alone. We need many voices. We need yours. Join us.
If you will be attending ILA, please come to any number of the sessions we have planned, and if you're not heading to Austin please engage with us in other ways: our website, or via social media on Facebook, Twitter, or LinkedIn. We want to hear from you.
Footnote:
*On June 23, 2018, the Association for Library Service to Children Board voted to change the name of the Laura Ingalls Wilder Award to the Children's Literature Legacy Award.