How much time do your students engage in independent reading each day, where you are actively participating in the process?
To grow as readers, children need time to read. The more they read the better readers they can become. I often ask children how much time they have to read during the school day and the response I often hear is, "When I finish a test or assignment, I have a few minutes to read before the next lesson." It is so sad to hear this type of response when we know how important reading is. On the other hand, I smile ear to ear when spending time in classrooms where students are all over the room reading from their book boxes and the teacher is conferring with a student or a group of students. It is such a joy to watch students truly engaged during independent reading time.
I recently read No More Independent Reading Without Support by Debbie Miller and Barbara Moss. As I engaged with this text, it continually connected me to the work we do in Making Meaning Individualized Daily Reading (IDR). IDR has a tremendous impact on students' growth as readers. In IDR, students read texts at their appropriate reading levels for a specified period of time. During IDR, the teacher is actively involved, conferring with individual students or groups of students, helping them select appropriate books, and assessing and supporting their reading development.
In her book, Debbie Miller states, "extensive independent reading practice framed by instruction needs to happen in classrooms every day." As teachers it is critical for us to know our students as readers. IDR provides us with the opportunity to listen to our students and determine their strengths as well as next steps to support them in their reading development. I agree with Debbie when she says, "Conferring is differentiation at its finest!"
Conferring is a powerful practice, but it can also be challenging to implement in the classroom. One of the resources that enhanced my conferences during ID, is the resource sheet for IDR conferences provided in the Making Meaning Assessment Resource Book. The resource sheets outline a process we can use when conferring with students about their independent reading. Having a list of questions I may ask to probe students' thinking about their reading as well as to support their reading growth has tremendously supported the implementation of effective conferring. Barbara Moss confirms the importance of conferring with students during independent reading, stating, "Conferring with students during IR should not sound the same regardless of what students are reading. Rather, the type of text the student is reading should influence the specific strategies the teacher encourages the student to use."
Here is an example of an IDR Resource Sheet from Making Meaning: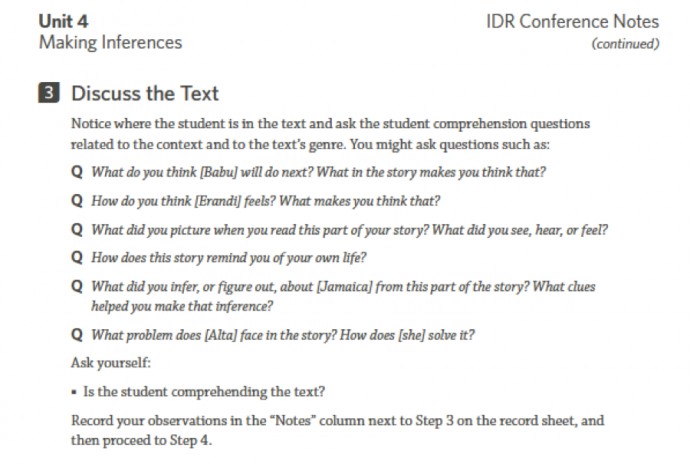 Finding the time for Independent Reading can often be challenging in today's classrooms. In her book, Debbie provides suggestions for finding the minutes within the school day for independent reading. She challenges us to think about questions such as:
What practices are you guarding?
Which ones do you believe must stay?
Which ones might you modify or stop protecting all together?
She goes on to share some practices that a group of teachers she was working with considered modifying, reducing or even eliminating, like calendar activities, school-wide morning announcements, and even some instruction that was occurring during the literacy block. Like the group of educators mentioned in No More Independent Reading Without Support, I believe that when we value independent reading and take the time to evaluate all of our instructional minutes, though it might be challenging, we can find the time to include IDR in our daily instruction.
I would love to hear how you support your students during independent reading on a daily basis.