Last week I attended CAI (Curriculum, Assessment and Instruction). CAI is our division's professional learning event for teachers and administrators, held every June for several days. About 250 educators from my school system attend. Last summer, we created performance tasks at the kindergarten through 12th-grade levels in all content areas. The performance tasks are intended to assess our implementation of the Lifelong Learner Standards.
Throughout this past school year, every student in our division completed a performance task and all of the student work was collected. This summer we designed rubrics (written through the lens of our Lifelong Learner Standards) to assess the tasks, scored a lot of student work in K-12 and cross-content scoring groups, created new tasks, and worked on more general rubrics around our Lifelong Learner Standards. What a week!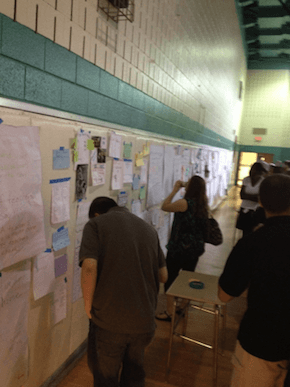 Some highlights:
The team builder on the first day was the Grade 1 Math Performance Task called What Do You Wonder? We asked participants what they wondered about the other 250 folks in the room. They all came up with a question, wandered around asking other people their particular question and then found a creative way to represent their data. We had maker spaces throughout the room with a wide variety of materials for folks to use. We learned about peoples' favorite songs, how long they had been teaching, what books they were planning to read over the summer, etc. And the data was represented in so many different and unique ways!
The language arts group that I worked with had a goal to come to consensus on a rubric for our task about evaluating websites in order to plan and conduct research. We had 25 people in our group and we all had to agree on one rubric! We worked in 5 groups of 5 to create drafts and then sent a representative from each group into another room to hash out the final product. It worked and we came up with one solid and thoughtful tool!
I had the most fun scoring the student work from the visual arts performance tasks. Discussing and debating with teachers the value of craft versus the value of creativity in students' squiggly line designs was really engaging. Thinking about student work outside of one's own content was very freeing.
Finally we held an un-conference on the last day, where all 250 participants got into many smaller groups to create products around the performance tasks and Lifelong Learner Standards that teachers will be able to use this year. In one room they created Lifelong Learner Standard rubrics. Below is a draft of one I worked on for the Lifelong Learner Standard of "thinking analytically, critically, and creatively to pursue new ideas, acquire new knowledge and make decisions."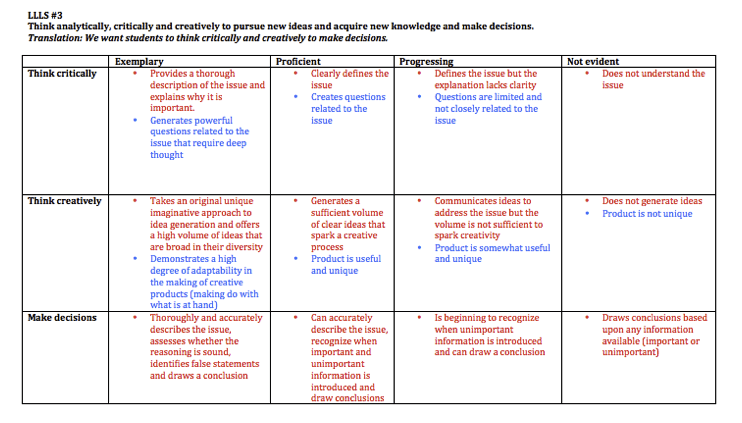 So, needless to say, we had a very busy and incredibly engaging week with lots of hard, rich, deep thinking. What are you doing this summer?