In previous installments of this blog series, we discussed the first two recommendations from the IES Practice Guide, Foundational Skills to Support Reading for Understanding in Kindergarten Though 3rd Grade (read part 1 here and part 2 here). The third recommendation from the Guide is the most familiar to teachers of young readers: Teach students to decode words, analyze word parts and write and recognize words. For the most part, kindergarten through third grade teachers are focused the most on getting our students to decode words.
The empirical evidence is strong that we must:
Teach students to blend letter sounds and sound-spelling patterns from left to right within a word to produce a recognizable pronunciation.
Instruct students in common sound-spelling patterns.
Teach students to recognize common word parts.
Have students read decodable words in isolation and in text.
Teach regular and irregular high-frequency words so that students can recognize them efficiently.
Introduce non-decodable words that are essential to the meaning of the text as whole words.
All of these recommended practices are what comprise the small group component of Being a Reader. We believe that phonological awareness, phonics and high-frequency words are more effectively taught in small groups so that students have the benefit of instruction target to where they fall on the developmental continuum. Teaching students who are not yet ready for particular phonics skills in inefficient and ineffective. Teaching students phonics skills they already know slows their progress.
Within the small group instruction in Being a Reader, students have the opportunity to blend letter sounds and sound-spelling patterns. Notice the instructional sequence below from Being a Reader Set 1:
Notice how the teacher uses continuous blending to support the students correct pronunciation.  Students have the opportunity to move from practicing the words in isolation to seeing them in connected text.
In addition to blending, students need instruction to common sound spelling patterns.  Moving from consonant patterns into more complex vowel patterns allows students to identify more complex words while reading.  Consider the instructional sequence below from Being a Reader Set 3: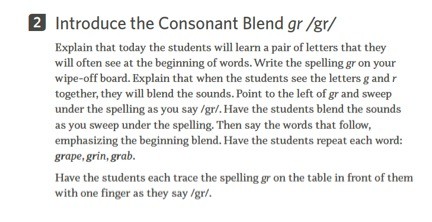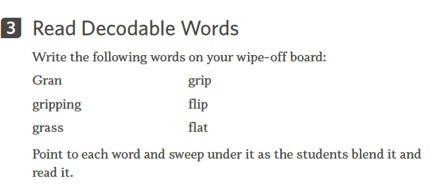 Students have the opportunity to be introduced to a new sound-spelling pattern, practice it in isolation and the see and practice it again in connected text when they read the story Drip Drop.
As students become proficient with sound-spelling patterns, the begin to analyze words in more complex ways. The practice guide calls on us to teach students to recognize common word parts. Understanding using word-analysis is the backbone of what students do during the Word Study component of Being a Reader. Second graders work together to read and spell words with inflectional endings, multiple prefixes and suffixes, understand syllabication and morphology and work on morphemic transformations. Each of these instructional routines support the student in decoding polysyllabic words, understanding the meanings of such words and using them in their writing.
While students may practice decoding skills in isolated ways (i.e. word lists), the end goal is always applying those skills in connected texts so that students understand that the goal of reading is understanding and thinking. The practice guide recommends that students do just that. Above we showed how students work on reading decodable words in isolation, but in Being a Reader, students immediately apply their skills in connected texts that not only support the skill and high-frequency words being taught, but support the reader with natural sounding language and high-quality context. Notice the book from Being a Reader Set 3 that was referenced above: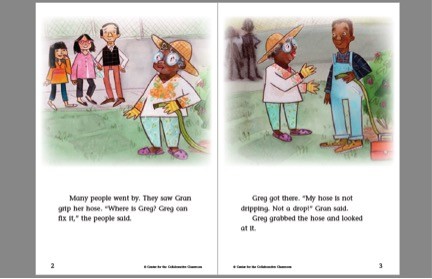 Students are practice the consonant blend they learned earlier and are cumulatively reinforcing previously learned skills and high-frequency words.
High-freqency words support our young readers by allowing them to process those words quickly so they can attend to meaning while reading. Being a Reader supports students high-frequency word knowledge though multiple routines that allow readers to attend to the regular and irregular spellings. For example, the "Read-Spell-Read" routine frequently used for practice allows readers to notice which spelling patterns exist within words.
Both irregularly spelled high-frequency words and non-decodable words that are essential to the meaning of a text are to be introduced as whole words. Supporting students reading by previewing these words in advance of reading a text supports young readers in their fluency and their motivation to read. Take into consideration the following instructional routine from Being a Reader Set 4: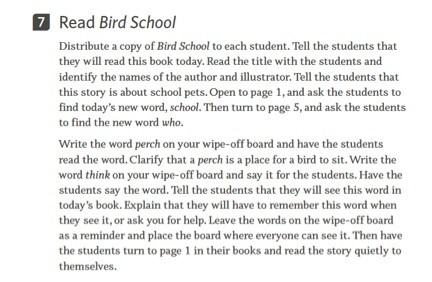 Notice how students are finding the irregular high-frequency word school in their text and how the teacher introduces the word perch so that students will both recognize and understand that word while reading.
Each of the recommendations from the IES practice guide are fully realized in the Collaborative Literacy suite. The fourth recommendation will be addressed in our next installment. We will discuss all of the recommendations with one of the IES panelists, Dr. Lynda Hayes in a webinar on November 15. Please join us for this important conversation. We look forward to learning with you.