When you think of Napa Valley, what do you see in your mind's eye? If you know of Napa, you are most likely thinking about the fine wines, luxurious resorts, and five-star restaurants. What you may not be thinking about are the people behind the scenes here-the people who support every facet of this thriving tourist destination. They are the people who pick the grapes, clean the hotel rooms, and work in the restaurants. The children of these hardworking people are sitting in our classrooms. In Napa County, where bottles of wine are starting to break the $1,000 per bottle barrier, nearly 75 percent of the children at my school live in poverty and are learning to speak English as a second language.
Last year, Christopher was one of these children. He arrived from Mexico two weeks before the start of the school year. He spoke no English, was living in a foreign country, and was grappling with leaving his extended family behind. Christopher was a child immersed in stress. As numerous studies have shown, stress dramatically impacts a child's ability to learn. Another way of looking at how stress can impact learning is through Maslow's hierarchy of needs. In short, before I could effectively support Christopher's academic needs as an English Language Learner (ELL), I needed to address his emotional needs.
I have learned from my years in the classroom that good teaching alone does not meet the needs of ELLs. Many of these students get in habits of nonparticipation because they lack the confidence or skill to contribute to classroom conversations. In her article, One to Grow On: The Caring Teacher's Manifesto, Carol Ann Tomlinson shares her thinking on caring for ELLs. She writes, If I teach with the intent to provide equal access to quality learning to students from the broadest possible range of backgrounds, I need to care for each of them as individuals. That means that I will actively accept responsibility for each student's academic, social, psychological, and cultural well-being.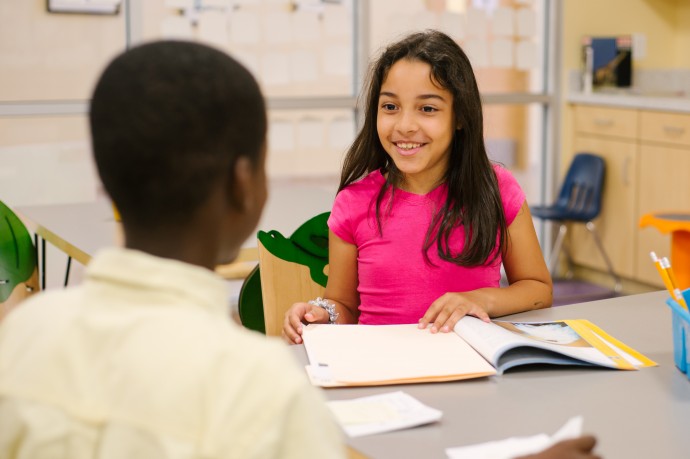 For instruction to be effective, it needs to be targeted to not only the academic needs of students but also to their linguistic, social, and emotional needs. Despite all of his challenges, Christopher made a quick adjustment to life in Room 3. I believe some of the strongest and most effective support that Christopher received came during the times we were working on comprehension with the Making Meaning program and on writing with the Being a Writer program. Inherent in the design of both of these programs are structures and resources to support students academically and socially so that all children can become caring and contributing members of a classroom community.
Intentionality is crucial in the limited amount of time that we have each day to help students meet academic expectations. Since I have so many students learning another language, I plan my classroom lessons through the lens of language acquisition, using the ELL Notes in my manuals to support this work. These notes remind me to do the following:
Speak slowly.
Use visual aids.
Introduce additional vocabulary that is targeted to the language learner.
Pre-teach when necessary.
Avoid confusing a lack of verbal response with a lack of understanding.
Keep in mind that requiring students to give verbal responses alone can add stress for the student who is not yet ready to share in that way.
Simplify questions using the suggestions in the Introduction of my manuals.
Christopher left the second grade stronger academically, and better able to communicate his thinking and attend to the thinking of others. He left the second grade confident of himself in a classroom community and resilient in the pursuit of his learning. Notice the balance of academic and social development present in Christopher's transformation. It is one thing to understand grade-level content. It is another thing to have the confidence and social skills to communicate that understanding in a way that invites an exchange of ideas with others. When I see Christopher on the playground this year, I am reminded that taking the time to do this work well and to address the academic, linguistic, and social needs of our children has enduring rewards.
You can find additional information and resources to support the instruction of ELLs in this article on Edutopia or by exploring the Teacher's Manuals of Being a Writer and Making Meaning.