September is a great time to start conversations-both with small and large groups of educators. In my last blog post, I discussed planning conversations for Professional Learning Communities. Now, I'd like to talk about planning for conversations with larger groups of educators.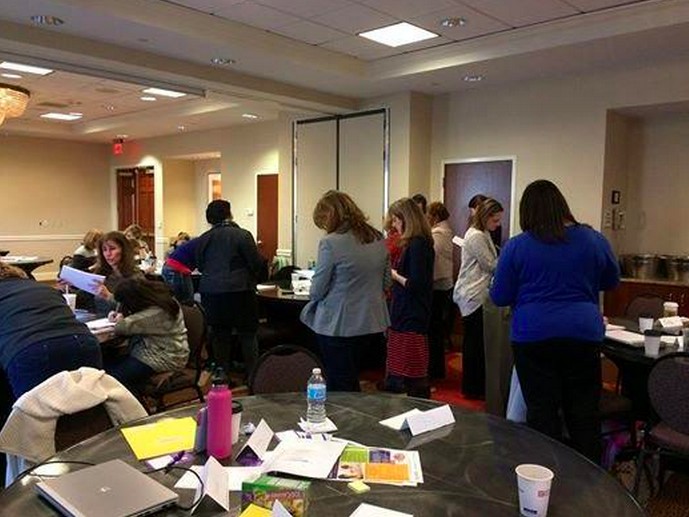 When planning for more formal presentations, do you wish you had a protocol to help you design your professional learning opportunities? As the school year begins, I am often asked to facilitate professional learning experiences for groups of teachers. Here are some ideas and questions to help you plan-with tremendous thanks to my colleague and partner in planning, Sue Wilder.
Starting with the end in mind
First, identify your topic and the three most important goals you have for your participants. This might take some time and effort depending upon whose help you need to enlist for this conversation. I promise you though, the effort needed to define your topic and set your goals will save you a lot of time when you take the next steps.
Orienting the conversation
In order to think through this next step, you will need to consider logistics, including the start and end time for your session, the facility where you will be presenting, and the number of participants you will be hosting. Then, ask yourself these ten questions:
What type of teambuilder or reflection question will help get the participants thinking about what they are going to experience during the session?
How will you use the information you gather during the teambuilder/reflection question to frame the conversations across the session?
What type of lesson experience can you provide that will resonate for adult learners or help them see learning through their students' eyes?
How will you frame and debrief this lesson experience?
Do you have video that could be helpful for participants to watch?
What research or professional reading might you provide that supports your approach and will help to build theoretical knowledge?
What protocol or process will best help the participants discuss the ideas presented?
Should you discuss what supported the participants' learning during the event?
What call to action will you give to your participants at the conclusion of the session?
How can you create accountability across the participants to sustain the ideas and energy generated during the session, and continue the conversations well into the year?
Now it's your turn!
I hope you find these tips and questions helpful. I invite you to go forth and start those conversations, both big and small! But take the time to do a little bit of planning ahead of time. You will be rewarded with a much richer dialogue, and will hopefully be invited back to continue the discussion. If you have tips of your own to share, please add them in the comments. I welcome your ideas and feedback!