The following is a blog from Ava Spencer, Coordinator of English Language Arts at the Maryland State Department of Education. We were fortunate to partner with MSDE for a five-part webinar series on social-emotional competencies to support the acquisition of literacy for our youngest students.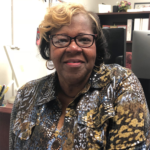 Our office was thrilled to collaborate with Center for the Collaborative Classroom to present this five webinar series as a follow-up to our 2017 Summer PreK–2 Symposium.  We recognized that as we provide professional learning for teachers in using evidence-based essential instructional practices for literacy acquisition, we must at the same time incorporate core social-emotional competencies to enable our students to effectively participate in their learning.
The interest in this series was tremendous, with over 750 early childhood educators and child care providers in Maryland and surrounding states registered.  Participants were actively engaged during each session as they watched authentic classroom videos, shared their practices, and provided implementation feedback following each module.
We hope to continue this partnership with the Center for the Collaborative Classroom as we strive for increased literacy achievement and social-emotional learning for all Maryland students, beginning in our early grades. We plan to include the recorded webinar series in our bank of educator resources to be available for continued professional learning.
You can view the entire webinar series here. Happy viewing!