Never in my wildest dreams could I ever have imagined that at the age of 52, after 29 years of teaching reading, that I would have to figure out how to teach a lesson online. In December I was presented with somewhat of a challenge: A ninth-grade student with an individualized plan was facing some specific academic issues. I was asked to take a look at his academic profile. Using the SIPPS placement assessment, it came to light that this student did not have consistent phonological awareness skills or phonics knowledge, especially regarding vowel sounds. We then began our SIPPS journey, which I thought was going to come to a halt with the closing of schools. To measure progress, I looked at his fluency. My student was reading 42 words per minute at an intermediate level in December; he was now reading 170 words per minute. I cried when I thought about losing that progress.
On the first day of remote learning, a colleague asked me if I would have a virtual meeting with him. Throughout the entire meeting, all I could think of was how I could make this work with my student. I contacted his mom right away and she was on board with trying whatever was necessary to make it work.
After trial and error, I settled on these steps:
Set up a consistent time to meet:

I am meeting with my student every day at 9:30 AM.
Figure out the platform you will use: I am finding that Google Meeting is working well for us because I can send the meeting invite directly to the student's school email. Zoom works as well.
Be prepared to encounter technology glitches: The first day my student was not able to sign on and he had to switch devices. After a call to our technology coach, we figured it out.
To set up: I use two computers, one with the lesson from the Learning Portal/Learning Hub on it (I do not have the print Teacher's Manual at home), and the other with the resources for the lesson, the reading that we do at the end, and the meeting login all open in separate tabs (see pictures below).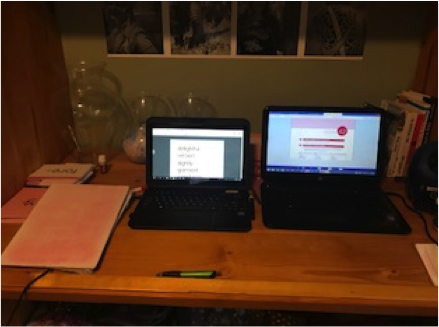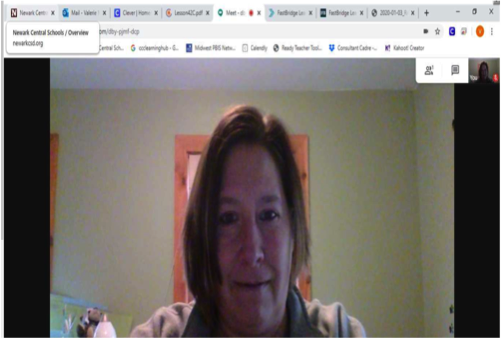 Here is how I conduct the online lesson:
Word and sound cards: I hold up the cards to the computer camera so the student can see them. I was worried about this because on my screen they were backwards, but they are not on his.
Online resources: I share my screen when there are resources from the Learning Portal/Learning Hub. My student can then see what is on my screen. This took some practice for me—I had to get used to not being able to see the student while I was sharing the screen.
Writing: I conduct writing just as I do in a regular SIPPS My student holds his paper up to his computer camera for me to see it after each word.
Reading: I use outside texts because we are in Challenge Level. When using the other SIPPS levels, the texts could be shared with the student on their screen to read. (Note that for Beginning Level you will have to rotate the reading because it is sideways in the resources. You can also zoom in, if you have a student who needs larger text.)
I was over the moon after the first day. We both signed off with big smiles, because it worked! The first week of lessons has now passed and we have settled into a comfortable routine. Just as importantly, we also have an everyday connection; it gives us both a purpose to get up and start our day with a meaningful lesson.
I am in the process of working with our interventionists in grades K–5 to get SIPPS lessons happening remotely with their students.