The students in Mrs. Westphal's 4th grade group debated their opinions. To gain information to form their opinions, students gathered evidence from two different types of informational text: an article and a news clip video.
The students read the Scholastic News article "Minecraft Goes to School," which discusses pros and cons for allowing the popular video game to be allowed as a teaching tool in schools, and used evidence from the text to support their conclusions. Students read the article several times, focusing on gathering information to the questions posed by the teacher to help support their understanding of the topic.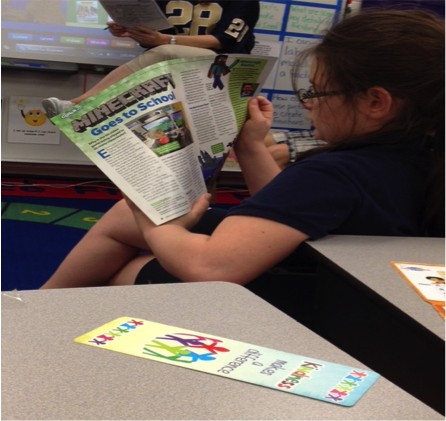 Mrs. Westphal then engaged the students in gathering more information by showing a short news clip online that added to the evidence highlighted in the article. Students were encouraged to use evidence from both sources for their debate.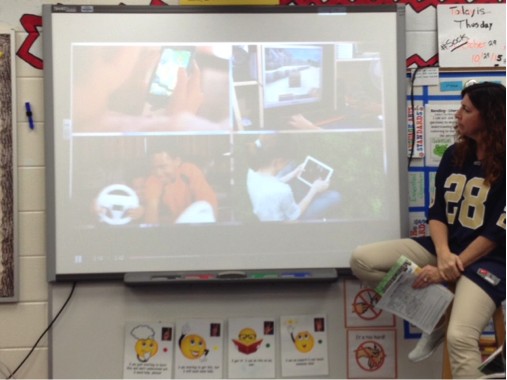 Conversations were animated as the students debated their opinion on a popular topic-video games in the classroom. Students for the use of Minecraft in schools quoted the article stating that "students using Minecraft in schools were engaged in higher level thinking on topics such as math, reasoning, problem solving, and history skills while using the skills necessary for effective teamwork." Students opposing the use of Minecraft in schools quoted the article by stating "students who overuse video games may hurt their eyesight by having too much screen time, and teachers may not realize students are just 'playing' instead of really making connections to the academics."
As an observer to the debate, I was amazed at the level of effective and respectful communication the 4th graders displayed. Many students agreed with the idea that learning activities in schools should always be fun-the main reason, so students won't be bored. One student, however, respectfully disagreed with all of her peers saying that not all of life is a game, and if teachers in grade school always teach in a "fun" way, that will not prepare her for college and beyond.
The Great Debate was an example of the high-level conversations that students can engage in when presented with a high-interest topic and the task of forming opinions based on evidence gathered from two types of informational text. I can't wait to see what topic they take on next!