This is the second installment in a series of posts with ideas and suggestions for running effective literacy circles or book clubs with students from second grade through high school. Read the entire series here.
Prerequisites for Thriving Book Clubs
Many students are not ready to begin book clubs early in the school year. In a webinar for Center for the Collaborative Classroom in 2017, Jennifer Serravallo suggests that teachers begin the year by focusing on whole-class read alouds and discussion using turning and talking, learning to truly listen to others, finding each student's independent reading spot, launching independent reading, and learning to write or 'jot' about reading. In October she focuses on students reading a book with a partner so that students can practice skills expected in clubs with just one other person in a mini-version of book club. During this time, she teaches students to 'talk long' about an aspect or thought about a book and ask questions of one's partner. In November she moves to a read aloud where she reads and students discuss the text in groups of four before discussing as a large group. Finally, in December she begins book clubs.
In addition to Serravallo's ideas, I believe that students need to be grounded in the comprehension strategies found in the work of Harvey, Goudvis, Miller, Tovani, Keene, et, al. The Making Meaning program published by Center for the Collaborative Classroom also provides these comprehension strategies: monitoring comprehension, making connections, retelling, summarizing, questioning, using sensory images to visualize, inferring, determining importance of big ideas and themes, and synthesizing. Students also need to be comfortable discussing character development, setting, and plot (conflict and resolution).
Students not only need to have solid understandings of these strategies and aspects of literature; they also need to have been taught to discuss these issues with peers in collaborative settings. Without this pre-work, teacher guidance, and direction, students might flounder when attempting to engage in deep discussions about a text. One of the goals of a quality book club is that it is NOT teacher directed, but rather a natural discussion in the hands of the learners. Students who have participated in Making Meaning for more than a year are usually well equipped to step smoothly into a literacy circle setting.
Launching the Club
Appropriate Books for Literacy Circles
Not just any book works for a literacy circle. Books with controversial issues, books in which characters have made great growth or wrestled with tough choices, or books with strong themes are the best choices—in other words, books that lead to great discussions. (The last section of this blog will provide a suggested list of titles that work well.) It is also helpful if there are book choices that are at the lowest reader's reading levels. It is hard but not impossible to find such texts if we want the students to read books with challenging ideas and themes.
Introducing the Books
A few days before the circles are to begin, I will show the title and cover of each book I have chosen and give a short book talk about each, being careful not to give too much away. I will have as many titles as the number of groups I want. I always try to include at least one title that is easier to read for my lowest readers. Then I ask students to privately list their first, second, and third choice. I do not allow students to see each other's choices as I don't want them choosing the book their friend picked just to be in his or her group.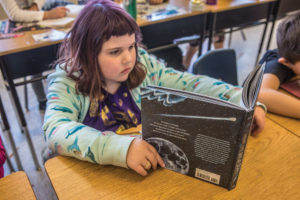 If a student chooses a book that might be too difficult, I privately meet with the student and point out that the book might be at a challenging level. I explain that the student must keep up with the reading of the book independently. (Literacy circles are not a time where students read the books together, as in round-robin situations. The reading of the book is done independently, and groups meet only to discuss the reading.) I ask the student what the plan will be to support his or her reading of the book. A number of strategies can support students when they select a challenging text. For instance, will a parent read the book with them at night, or will they read with a friend during independent reading time? Are they willing to listen to the book on an audio reader? (It is wonderful if all the titles are supported by some type of audio reader so that lower-level readers can choose to listen to the book read aloud as support for the independent reading work.) If students have chosen a book that will be challenging for them, I show them the book I have chosen that is a bit less challenging at the word level, but I never insist that they choose the easier book.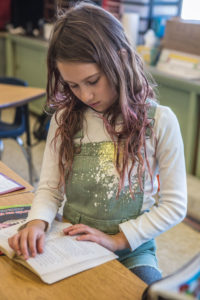 I try to give students their first choice, but I am clear with them that this isn't always possible. When a child gets in a group with a second or especially a third choice, I will make sure she gets her first choice on the next round of book clubs.
Guiding the Groups
After students have been placed in groups, I have them meet to set up their group norms and rules. The first issue I have them deal with is reading pace. I let the group know how many times we will meet, what days their group will meet on, and a timeline for completing the book. Then the group chooses how to divide up the reading. The group may also set rules about what to do when others do not do the agreed-upon reading, refuse to share, or talk too much, thereby limiting others' talk time. (There should be reasonable, non-humiliating consequences that do not involve any promise of money or snacks.)
The group members should also decide how they will keep track of their thinking as they read in order to share at group time. Will they use sticky notes? Will they write responses in journals? Will they use a Conversation Calendar (Chapter Two, Tovani, 2011)? Will they require certain number of sticky notes or thoughts during each session? Will they just allow open-ended sharing? As much as possible, I want the groups to be run by the students. With that said, I will teach several mini-lessons during this time to help with and guide their discussions.
This is part 2 of a six-part series; you can read part 1 here. Please check in to Collaborative Classroom's blog for the next installment.