I was fortunate to be able to bring with me to Thailand a curriculum called the Words In Action program from Developmental Studies Center. The goal of this program is to increase students' vocabulary using literature and direct vocabulary instruction. As with all of Developmental Studies Center's programs, it incorporates explicit instruction in social skills into the daily lesson. It is built around a core of high-quality children's literature.
So, armed with a bunch of read-alouds for grades K-3 and some fantastic flashcards and a teacher's manual full of ideas I scoped out my classrooms, only to find that…my students level of English is so low that the program needs a lot of modification. This post is an attempt to describe how I am proceeding with this task. I'm happy to say that I've been able to use this program with virtually all my students, and that it has become a key part of my daily instruction.
Introducing the Book
I often introduce a new book to my students by paging through it without reading every word of the text, just commenting on the pictures and loosely narrating the story. I'll also begin pointing out some of the key vocabulary I'm planning to emphasize with the story. All of the books in this program are beautifully illustrated, so the students are drawn into the pictures and able to glean a lot of meaning from them.
Vocabulary
The next step is to go over some of the book's vocabulary. While the Words In Action program is designed to teach four words per book, my students need help with many more words and much more basic vocabulary. So, I prepare a set of vocabulary cards ahead of time. One card has a word or phrase on it, and the corresponding card has a picture of the word or phrase.
I pick these right out of the story and try to emulate the artistic style of the book's illustrator. When I introduce these words to the class, I use the picture, and add actions, games, pantomime, and examples to help the students understand the word.
Activities
After this, I alternate a smorgasbord of different activities with rereading the book. When I read the book aloud, I always try to focus the students on something. For example, they are asked to look and listen for particular words or sounds. Sometimes I give the cards out to the students, and they have to listen for the words that are "theirs" to be read.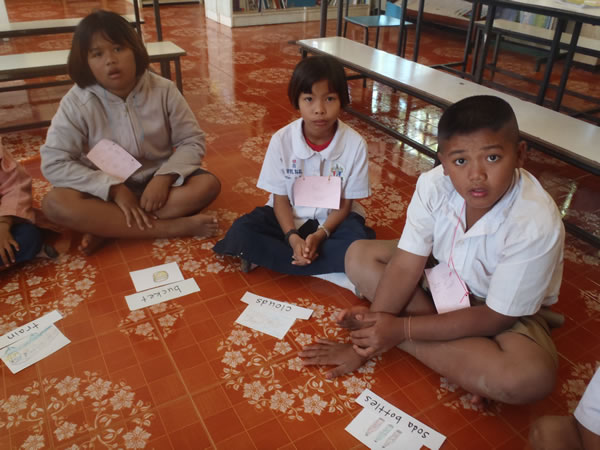 These are words from Max Found Two Sticks, written and beautifully illustrated by the Brian Pinkney.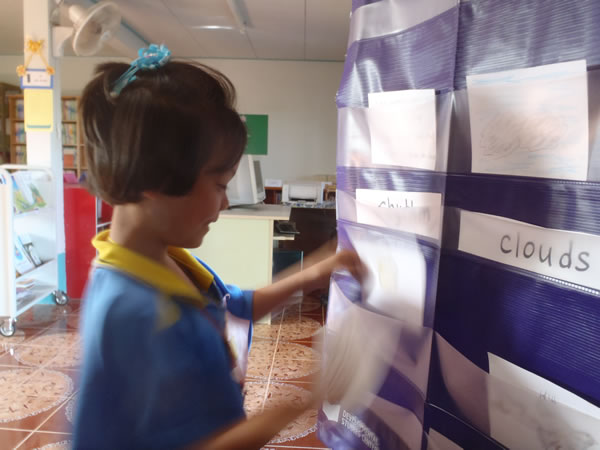 Here a student has heard "her" word and is putting it up in the chart.
A favorite way to engage the kids with the language in the book is by picking out some word play or song that helps with the book's content or vocabulary. For example, for the fabulous book Bee-bim Bop!, by Linda Sue Park, about a girl helping her Mama prepare a Korean dish, I pulled out some of the repetitive and onomatopoetic words and turned them into a rhyme that students chanted:
For each line of the rhyme I created a hand gesture, and the kids from Kindergarten to Grade 6 loved repeating this little song. I still hear students muttering "chop, chop, chop" as they go about their day at school, even though this was the first book we read together.
There are always opportunities to do some phonics-in-context with the vocabulary. For example, one of my classes was working on sh and ch digraphs while we were reading Bee-bim Bop! and there were lots of juicy words to point out and practice with.
I try to build other lessons around the books, or pick books that fit in with other things we are doing. For example, while reading A Field Full Of Horses we sang Old MacDonald and the older kids drew a diagram of a horse and contrasted it's body parts with ours and a spider.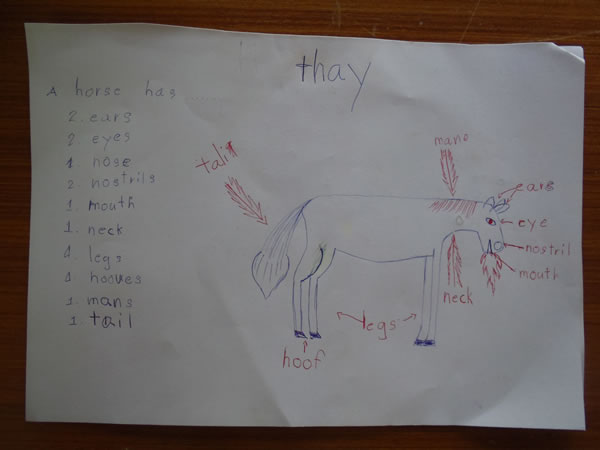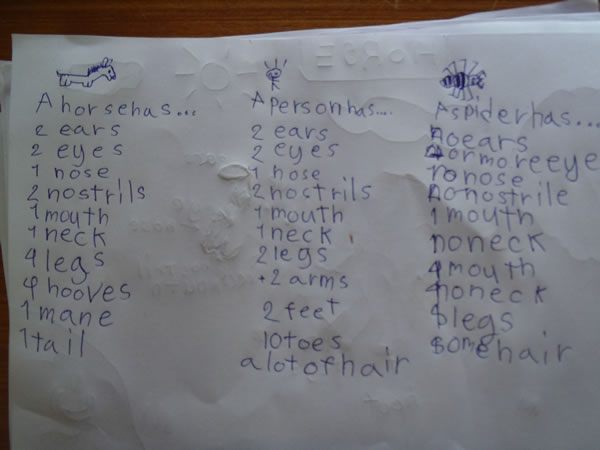 The last page of the book is a richly illustrated tapestry of every different kind of horse imaginable. After reading the book I asked each student to point to the horse they liked the most. They eagerly pointed to different horses, and I described each one as they did. I suddenly realized that they were now poised to learn the word favorite-a concept word that could be tricky. It's always so exciting to be able to notice and seize on that teachable moment!
The Words In Action Vocabulary Program
Even though some of the vocabulary is too difficult for my kids, I really enjoy trying to convey less tangible words to them. The Words In Action program includes a lot of "concept" words which I can sometimes help my students understand.
Here are two of the words that the Words In Action program highlights: Heavy and Light. I used some pictures that the students are already familiar with to help them understand and use these new words.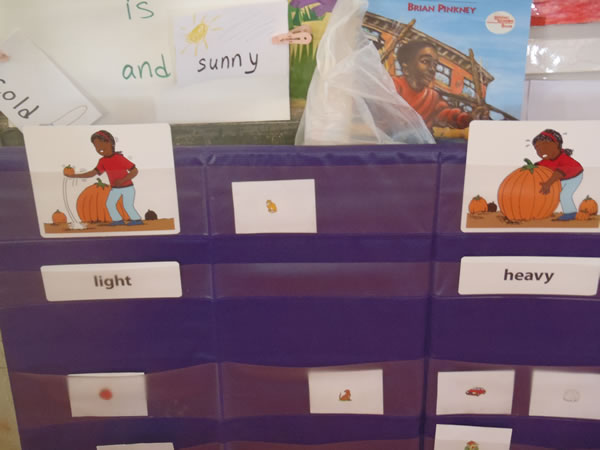 And here are some words and phrases from When Sophie Gets Angry, Really, Really Angry… by Molly Bang. I like to use entire phrases (e.g., "a volcano ready to explode") as well as individual words.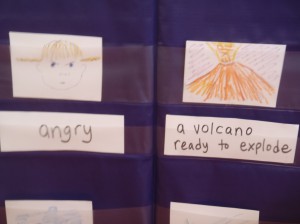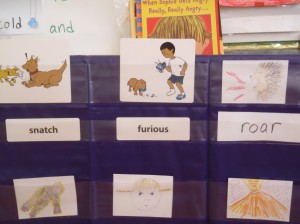 In this pocket chart you can see some of "my" words-words I've picked out of the story to illustrate and focus on-as well as the official Words In Action words, snatch, and furious.
Words in Action books can be counted on to be visually engaging, and full of the kind of language to which I want my students exposed. The word cards in the program are so well illustrated, that I am able to teach all but the most obtuse words to my more advanced students.
I know that many English as a Second Language (ESL) teachers feel that literature is beyond their beginning students. I was not sure how this program would work with my kids, but I've been pleasantly surprised. It is my conviction now, after two months of experimentation, that students not only can benefit from the use of literature in the classroom, but that the use of literature brings a level of interest and richness to the language classroom that can't be matched