Tanny McGregor has a wealth of experience as educator, author, conference speaker and teacher on special assignment for West Clermont Schools in Cincinnati, Ohio. She brings a deep understanding of literature and curricula to her work, and we are thrilled she agreed to share her expertise with us.
For nearly a year now, our library team has been on a mission: to reinvigorate our school libraries through dramatically increasing circulation numbers and boosting collections with books kids can and want to read. With the support of our district office, parent-teacher organizations, and over fifty community volunteers, thousands more physical books have been checked out this school year than in any recent year on record. This is especially significant because accessibility to bookstores in our area is limited. Our school and public library systems are our students' lifelines to literacy.
Enter COVID-19. The unexpected stay-at-home order rendered our school libraries uninhabited, and our public libraries temporarily closed their doors. Just like that, the progress we had made in our libraries seemed to stop, and like educators everywhere, our team felt disappointed and uncertain. A new awareness soon came over us, though, a realization that led to action. We had not only been increasing the number of books in circulation, we had been fostering an increased love for reading.
In the early 1970s in southwestern Ohio where we live, book-filled buses and vans traveled the roads bringing book access and awareness to families along the routes. So many of us look back with gratitude as we think about how the bookmobile played a part in our early lives. Our team decided to pay homage to the beloved Ohio bookmobile and create a virtual vehicle to increase book access and awareness like our actual bookmobiles did decades ago.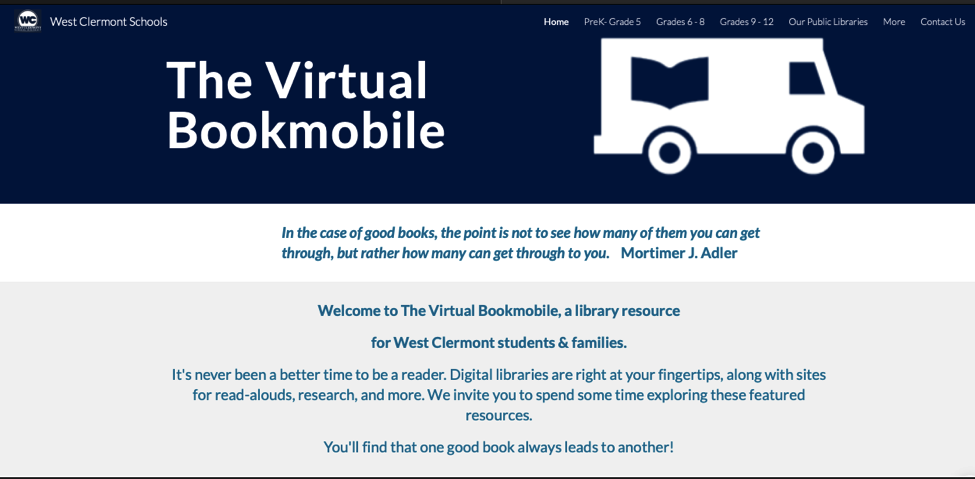 The Virtual Bookmobile (www.westcler.info/library) is a site designed especially for our school district. The existence of this site is our statement that we not only value our brick-and-mortar library spaces, we value a literate community. At The Virtual Bookmobile, families can follow simple steps to get eCards from two major county library systems. The Virtual Bookmobile never closes, so free digital libraries are available 24/7. The site contains curated resources for eBooks and research, valuing both academic and pleasure reading. In creating The Virtual Bookmobile, we sought not to overwhelm with an endless list of resources. Instead, the site's pages are short and simple, with featured recommendations that will change over time.
Although The Virtual Bookmobile moves our school community toward greater book access and awareness, this is not enough. Inequities exist, and the absence of Internet and computer availability impede access for some. We are proud to be part of a school district that is committed to access for all, and we are getting closer to making that a reality. The day when The Virtual Bookmobile reaches every family, offering books and resources for everyone, can't come soon enough. In the meantime, what can be done for our students and yours? How might we get books into the homes of all families, and ultimately into the hands of all kids? We know this is true: educators, along with their schools and public libraries, must unite to search for more effective ways to address inequities and to promote book access for all. Please join us in the journey.