I am teaching an online course this semester called Writing Across the Curriculum. Hence, I am trying to dig more deeply into the topic of "writing across the curriculum"-what does that phrase actually mean to me?
I am beginning my journey of discovery here and now with you all. As I was writing this morning, I realized that just the act of writing my blog is exactly what we mean by writing across the curriculum. This was the natural and almost unintentional process I went through when trying to think more deeply about writing across the curriculum: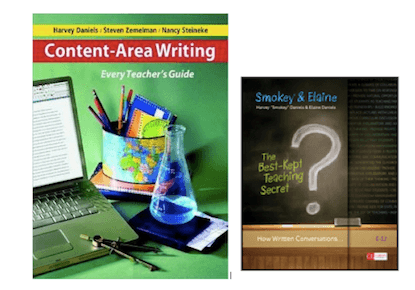 During some of the above research and reflection, I read a review of The Best Kept Teaching Secret: How Written Conversations Engage Kids, Activate Learning, and Grow Fluent Writers…, The reviewer wrote:
I ended my thinking with some questions that I want to investigate more with my students this semester:
Writing and reading always go hand in hand. Is this even more important for writing across the curriculum? How much back and forth should students engage in when trying to understand a topic?
The writing I have engaged in this morning has opened up more questions for me and taken me down a path that was not prescribed-I have gone where my interests have guided me. Is this always true for students in our classrooms?
Written conversations. Is that what makes our on-line learning experiences so powerful?
Writing to learn and writing across the curriculum: how do others use writing to inform their thinking and learning?
In one of my earlier blog posts, I included a quote a teacher said about her students: "writing is like a cup of morning coffee-my students have to have it every day." How do you write every day? Do you use writing to help you think and learn?