As part of the professional development DSC provides to schools and districts, I often meet with teachers during their grade-level meetings or visit their professional learning communities. Typically these sessions are very productive-they provide many opportunities to push our thinking around issues that are both timely and student-focused.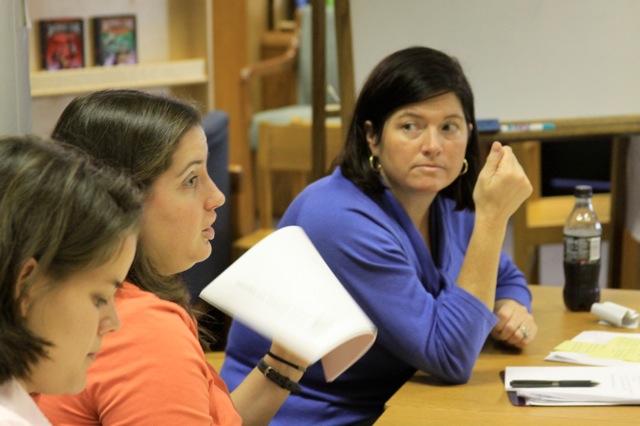 Isabel leads a group of teachers in a discussion around writing instruction.
I ask teachers to start by describing the week of instruction they just led with their students. Then I probe with, "What worked well? What was challenging for you?" I will often ask them to tell me more, "What in your instruction made that happen for the students?" Some other areas I try to address are the social development of their students and their motivation. Then, I conclude with "What happens next week? Where do you foresee the students might have difficulties?"
I was just visiting a PLC last week in my local district to talk about writing instruction. The teachers are using Being a Writer and are very impressed with their students' writing this year-it is the third year of Being a Writer program implementation in the building. I asked them just to talk for a moment about their students' writing. They made comments like, Every year the kids are getting to be stronger writers. One teacher said, For my kids, writing has become like a cup of coffee in the morning, they have to have it! Another said, Kids are writing volumes because of the consistency in our school's writing program now. And, …because of Being a Writer, kids are more confident about the work they are asked to do all day long.
When I asked about their struggles or challenges, they commented that they think their expectations of children are too low now. Four years ago, as a school, they crafted a document that outlined the expectations they had of their students in writing. The children are now writing pieces in the middle of the year that the teachers used to expect at the end of the school year. A teacher in the group said, Our kids look so different now. So, because their students are more capable now, they made the decision at the end of our meeting to revisit their expectations for students in writing.
After leaving our PLC conversation, the teachers felt excited and proud about their writing work with their students. And, they were also challenged with a new project-re-crafting their end-of-the-year writing expectations for their students.