As a teacher, I often found the dissemination of educational research to be so dense that it was hard to tease out what might apply to my own classroom. I tried to wade through the latest research and use it to make informed decisions, but it was a challenge and guidance was not always readily available to practicing teachers. Enter the What Works Clearinghouse (WWC)!
WWC is a part of the Institute of Education Sciences where educational research is reviewed and disseminated to help teachers, administrators, and policymakers make evidence-based decisions. WWC, in conjunction with an expert panel, publishes Practice Guides to help those in the field make important instructional decisions based on solid, research-based evidence.
Their publication, Foundational Skills to Support Reading for Understanding in Kindergarten Though 3rd Grade, provides us with guidelines on how we might prepare our youngest readers to be successful.
The first recommendation is to teach students academic language skills, including the use of inferential and narrative language, and vocabulary knowledge. We know that our students need instruction in comprehension, vocabulary, and foundational skills, but our students also need to have the words to talk about their thinking and to engage in conversations with adults as well as their peers about what they are learning.
Academic language skills include:
Articulating ideas beyond the immediate (inferential language)
Clearly relating a series of events, both fictional and nonfictional (narrative language)
Comprehending and using a wide range of vocabulary and academic and grammatical structures, such as pronoun references
Let's start with how to help our students engage in conversations that support inferential language. The report suggests that after read-alouds or other activities, we should support our students in conversations that encourage higher-level thinking. Teachers should use open-ended questions to challenge our students to think about the messages from the text and how those messages relate to their own lives or the world around them. Prompts should be used to encourage students to go deeper with their answers and illustrate critical thinking.
Consider this exchange from a first grade Making Meaning lesson, and in particular, reflect on the Teacher Note in the margin as a way to support the conversations students are having: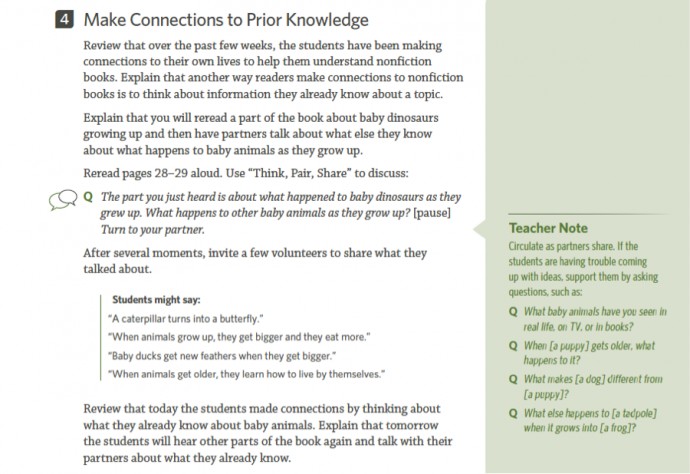 In addition to inferential language, our students need to have narrative language in order to understand texts and engage in discussions that include a logical sequence of events. The panel recommends that teachers expose students to narrative language by predicting a storyline or summarizing factual information. Scaffolds and prompts can be used to support the students in acquiring this sophisticated language.
Consider the following lesson segment from Being a Reader Small–Group Reading Set 11 in which the students have been reading a narrative biography and have explored character. In this segment, they are moving into discussions of setting and problem and solution. Note the open-ended questioning and narrative language in this part of the lesson: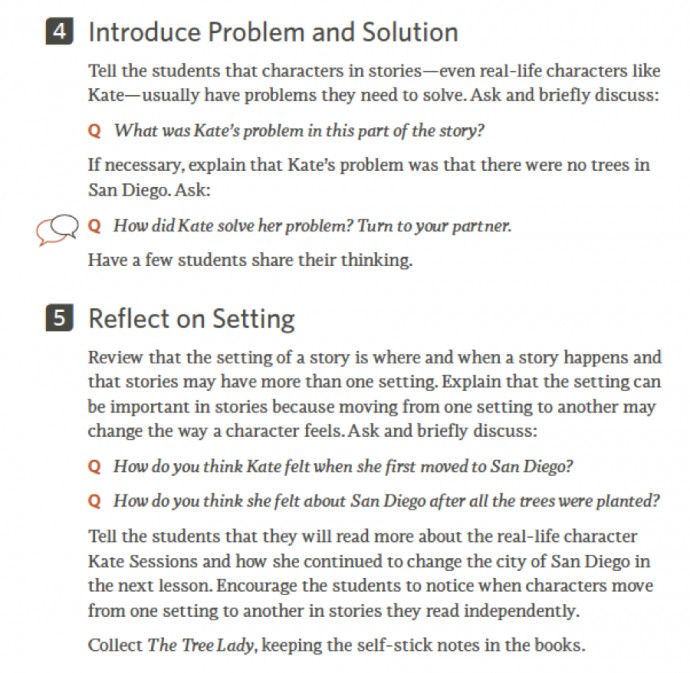 Lastly, the panel recommends that we teach academic vocabulary in the context of other reading activities. We know that students can struggle with words that frequently appear in instructions for assignments and activities across subject areas, such as locate, define, estimate, and concentrate. The panel suggests choosing vocabulary words that draw on common root words.
Consider the following example from a second grade Being a Reader Word Study lesson. The students have had the opportunity to study prefixes and suffixes as they relate to both meaning and syllabication. In this week of instruction, the students work together to analyze words and use an open sort to group them. See the "Students might say" portion for ways to support the students in their thinking.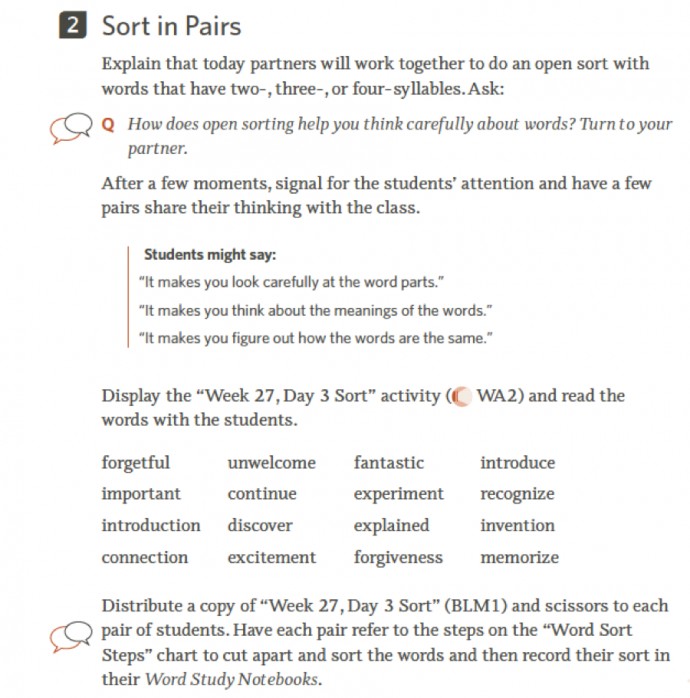 The first recommendation from the IES/WWC Practice Guide helps us think about how we can enrich the language of the students in our classrooms through the way we design our literacy instruction. The second recommendation helps us ensure our students develop awareness of the segments of sound in speech and how they link to letters. Check out part 2 of this blog series where we dig further into this and the other IES recommendations.