At Collaborative Classroom, we believe that professional learning embedded in high-quality curriculum is essential to the success of teachers and students—and that belief is at the core of all our work. Together our curricula and continuous professional learning empower teachers to transform classrooms, build school community, and create the conditions for authentic, student-centered learning.
Professional Learning Built into the Curriculum
Our programs are constructed so that teachers have opportunities to learn, practice, reflect on effective instructional practices, and deepen their content knowledge as they teach Collaborative Classroom lessons every day. Our curricula and professional learning, guided by four core principles, are grounded in the belief that how we teach matters as much as what we teach.
Collaborative Classroom programs strengthen educators' ability to:
Implement student-centered lessons that are active and accessible for every student
Make intentional instructional decisions to differentiate in order to meet the needs of individual students
Use facilitation techniques that encourage all students to communicate and collaborate around rigorous content
Implement cooperative structures that effectively deepen student thinking
Support students in becoming independent readers, writers, critical thinkers, and problem-solvers
Feel confident, prepared, and effective in their practice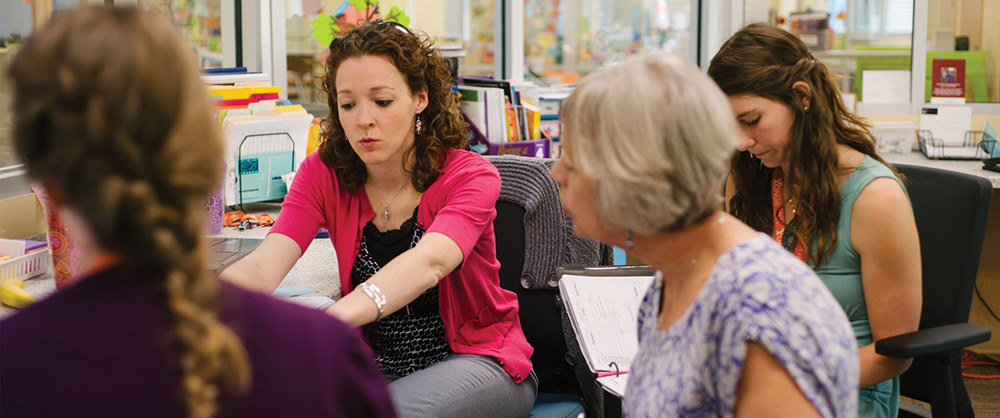 Professional Learning Offerings
Collaborative Classroom offers a variety of professional learning opportunities that can be facilitated in-person, virtually, or led by lead teachers/coaches at the district or school.
Professional Learning System for Collaborative Literacy
The Professional Learning System for Collaborative Literacy is a comprehensive learning system developed to help schools and districts implement Collaborative Literacy holistically, supporting the Being a Reader™, Making Meaning®, and Being a Writer™ programs.
Partnering with Schools and Districts
Collaborative Classroom partners with schools and districts to create customized professional learning plans to support implementation for Year 1 and beyond. Based on the goals of the school or district, we work with the leadership team to develop sustainable plans that consider the instructional shifts of teachers and the academic expectations for students. Explicit support is provided for leaders, coaches, teachers, and other educators. This support can be provided as on-site professional learning, classroom-focused, or virtually. Additionally we work directly with districts to develop district-specific plans that help stakeholders receive clear messages about implementation and building capacity. Contact us for more information.
Ongoing Learning with Professional Institutes
Throughout the year and across the country, Collaborative Classroom offers professional-learning institutes that will deepen your practice as a teacher, coach, administrator, or district leader. In these carefully constructed and interactive professional learning institutes, we focus on evidence-based best practices in reading, writing, and community building. These institutes can be hosted for a school or district, or visit our Events page for upcoming institutes in your area.
Online Resources to Support Your Collaborative Classroom
In addition to the professional learning that occurs when teachers engage with and teach from Collaborative Classroom lessons, we offer a wide range of online support.