Asynchronous Online Coaching
Anytime—Anywhere

Collaborative Coach provides personalized, program-specific, one-on-one coaching for individual teachers, coaches, and leaders currently implementing Collaborative Classroom curricula.
Learn how asynchronous online coaching can transform professional learning by allowing districts to scale their professional learning efforts. Read our article featured in Learning Forward: Coaching-Anytime-from Anywhere-Empowering Teachers.
Watch Collaborative Coach Overview
---
How It Works
Collaborative Coach is currently available for educators implementing Being a Reader™ Small-Group Sets 1–6, SIPPS® (Systematic Instruction in Phonological Awareness, Phonics, and Sight Words), or Caring School Community®.
Educators receive direct access to a Collaborative Coach who will provide program-specific coaching and feedback through our tool on the Learning Portal.
Coaching is personalized to meet each educator's individual teaching practice and may include:
Guidance and insights into an aspect of instruction
Access to resources and tools to support instruction
Opportunities to share teacher reflections, student work, and student data
Opportunities to receive several rounds of professional feedback
The Collaborative Coach Cycle of Learning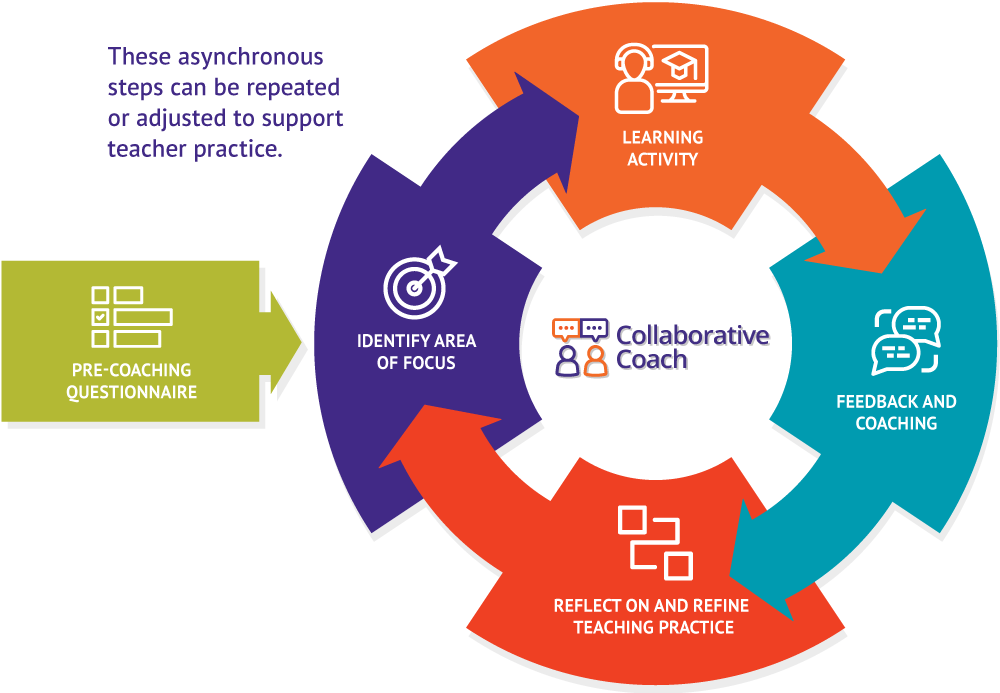 While the professional learning content is tailored to each educator, the asynchronous coaching experience follows an intentional cycle:
The teacher completes a pre-coaching questionnaire to provide the coach with preliminary information prior to entering the cycle.
The coach uses the questionnaire data to help the teacher identify an area of focus and then provides a coaching activity, such as a targeted simulation or learning experience, to begin the cycle.
The teacher engages in the activity and uploads any necessary recordings or documents for the coach to review and provide feedback.
The coach reviews the teacher's recordings to determine next steps, such as follow-up activities, tools, or specific guidance, and records feedback for the teacher.
The teacher reviews the feedback, reflects on instruction, and refines instruction accordingly.
The coach works with the teacher to determine additional next steps.
---
Hear from Educators Implementing Collaborative Coach
"The Collaborative Coach experience helped me think more critically about how each routine builds onto the next, making corrective feedback an extremely important practice when teaching. Because I am firming up my delivery of routines, students are demonstrating more confidence when responding, have had more success when reading connected text, and most are passing their mastery test!"

-Kimberly L, District Resource Teacher, Hillsborough County Public Schools, FL
"This is the most powerful professional learning I have participated in throughout my career. This process allowed me to reflect on my own practice and have individual coaching feedback."

–Kelly S., Interventionist/Title 1, Bethalto School District #8, IL
---

Pricing and Registration
How to Register:  Registration is online. Collaborative Coach is offered at regular intervals throughout the year, with Fall, Winter, and Spring cohorts:
Fee: $325 per educator for one coaching cycle (10-12 hours).
Questions? Please contact events@collaborativeclassroom.org for assistance.
Download Collaborative Coach Flyer