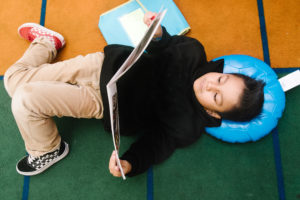 Reading opens the universe to children, so even if they stay close to home this summer, books can fire up their imaginations and take them far away.
We encourage summer reading because it's fun and because we know that the more kids practice the stronger readers they become. They expand their vocabulary, build knowledge about the world, and become more fluent. Summer is an especially  perfect time to read, free of the constraints of "school." Children can engage in a relaxed way with books that will end up supporting them when they dive into classes next fall.
Reading aloud is a great way to bring books to life for kids (for all of us, really!). You might suggest families read a novel aloud together over a week or two. Reading together is another form of practice and gives everyone an opportunity to hear a good story and talk about their thoughts and feelings.
What follows is a short list of titles to get your students and families started on their summer reading adventures.  These are books we love that'll spark curiosity, laughter, reflection, recognition, and surprise. You'll find fiction and nonfiction, old and new favorites, mostly selected from our Individualized Daily Reading (IDR) Libraries, and arranged in roughly reading level order (kindergarten to sixth grade).  
Summer Reading List