Sarah Rosenthal
Program Manager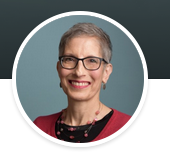 Sarah is a program manager at Collaborative Classroom. She is currently part of the Program Development and Publishing team revising Collaborative Classroom's core programs. Sarah also enjoys supporting Collaborative Classroom teachers with attending to their own wellness.
Prior to joining Collaborative Classroom, Sarah taught writing to children and adults. She designed and taught creative writing workshops for more than 3,500 K–12 students in 17 Bay Area schools, and designed and led an inquiry-based nonfiction writing program for grades 3–8 at St. Raymond's school in Menlo Park, CA. She also taught writing courses at several Bay Area universities, led private writing workshops for adults, and conducted one-on-one manuscript consultations. In addition, Sarah wrote language arts curricula for the Institute of Reading Development based in Berkeley, CA.
Sarah is a poet and writer who has published four books and has seen her work published widely in journals and anthologies. Her short film "We Agree on the Sun" has received numerous film festival awards. Sarah is also a Life & Professional Coach and a California Book Awards juror. She holds a BA Magna Cum Laude in Literature & Society from Brown University, an MFA in Creative Writing from San Francisco State University, and a coaching certification from New Ventures West.