How a Writing Community Contributes to Student Success
When considering writing instruction, why should educators invest time and effort to establish a community of writers in our classrooms?
For decades, teachers of writing have understood that intentionally building a classroom writing community is far more than just a way to help students work well with classmates and stay engaged, though these are worthwhile outcomes, too.
In fact we know—both through our own action research and from empirical studies of numerous classrooms—that learning to write within a writing community is what ultimately leads to the success of individual writers. Community provides students with an authentic audience and context for their work and the means to gain new insights about what it means to be a writer.
Reports such as the What Works Clearinghouse's (WWC) "Teaching Elementary School Students to Be Effective Writers" (2012/2018) remind us that practices supporting an "engaged community of writers"—as well as daily writing time, writing for various purposes, and a focus on writing fluency—contribute to students' growth as writers.
And, as educators continue to reestablish relationships and routines in an era when pandemic disruptions still have ripple effects on individual, family, and community levels, the writing communities that we establish in our classrooms become even more important.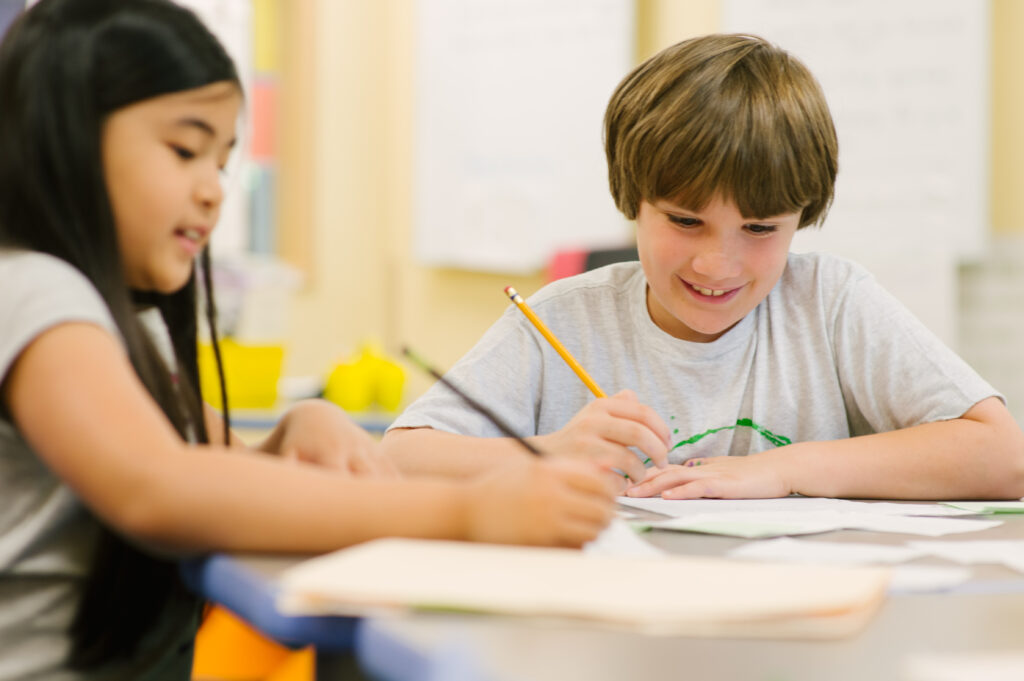 Essential Elements for Building a Writing Community
As we consider ways to establish a classroom writing community, we can start with norms and routines that set the tone and provide writers with a consistent yet flexible way to approach writing tasks. As demonstrated in the Being a Writer program, these core elements align with the existing research and include three "Es" that are, to add a fourth, essential. They are:
Establishing time each day. Students are invited to write on their own, and to cooperate with one another by providing peer feedback.
Examining author's craft. Through the use of various mentor texts, teachers help students identify the moves an author is making to create high-quality writing.
Evaluating their own writing. By conferring with the teacher and reflecting on their goals and growth, students think through their writerly choices and make decisions for future projects.
The Power of Conferring
Of these three "Es," the one that can lead to significant improvement in student writing—again, as evidenced in our own experience as well as in the WWC report—is conferring with writers and teaching them to self-evaluate at all stages of the writing process.
The process of conferring can feel daunting for teachers and students alike, but when situated in the idea of community, it can be less so. Teachers must set the tone and explain to students that writing conferences—either with the teacher or a classmate—will help them improve as writers.
To help start a writing conference, a teacher or peer might consider some of the following questions. They could be discussed in a mini-lesson and then added to an anchor chart in the classroom, created as bookmarks to stay in their writer's notebooks, or laminated and taped to their desks.
To get the conference started, a classmate or teacher could ask some of these questions, highlighted in the Being a Writer program:
"Can you talk to me about what you are working on right now?"
"What did you write about today?"
"What are you interested in writing about?"
"What do you think you want to add to this piece of writing if you had a chance to work on it later?"
"Was the writing hard or easy for you to do today? Why?"
To dig a little deeper, the conferring session can move into greater detail, focusing on the genre under study. For instance, with narrative writing, whether a fictional story or a personal memoir, conferences can focus on questions like:
"Who is the narrator of your story?"
"Are you using consistent points of view throughout your story?"
"What else do you need to do to be ready to bring this story to a close and make this a final version of your writing?"
Deepening Collaboration Within the Writing Community
Once these elements are established—and the writing community begins to emerge from these individual conversations—we can then aim to move students into deeper, more nuanced forms of collaboration. Collaborative writing, as most of us can attest, is a challenge, even for adults, but it is worth the effort.
As we consider ways to deepen our community of writers, the second post in this two-part series will dig deeper into the process of creating collaborative writing, looking at options for helping elementary student writers work together in productive ways.
***
Visit the Collaborative Classroom blog for more about best practices in writing instruction.
Learn about the Being a Writer program.