To better understand the impact of an educative curriculum, I posed this question to the Collaborative Classroom Community Facebook® group: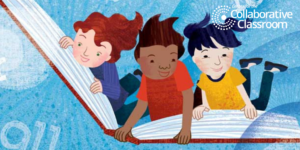 How has Collaborative Literacy changed your teaching? How have the resources impacted your practice? I am working on a blog about the impact of educative curriculum and would love to include some of your thinking!

My question resulted in a robust and rich conversation about the instructional implications of an educative resource.
As one would expect, many reflected on the literacy content knowledge they gleaned from using our materials. One commented, "[The resource] has helped me develop a strong understanding of my students as readers, writers, speakers, listeners, and thinkers. I appreciate how the curriculum is designed with a scope and sequence for skills and strategies needed for students to become proficient readers and writers." Another teacher shared, "I love that I know which specific sounds, blends, and high-frequency words students should have mastered. This allows me the opportunity to see if they are applying this knowledge in their independent reading and writing." Some teachers also reflected on their planning process and how it had changed: "I think about my lesson planning differently now. I think about what I am noticing in my students' talk and behaviors to think where the next day's lesson should be targeted."
Three other themes emerged from their collective thinking beyond the expected focus on content knowledge and lesson planning. The use of an educative resource impacted the more subtle aspects of teaching: instructional stance, rigor, and facilitation. Interestingly, an educative resource supported teachers in learning not only about their content but also about the finer techniques of teaching.

Instructional Stance
After using an educative curriculum resource, teachers reported a change in their "stance" in the classroom. Some educators referred to it as a perspective, mindset, or cognitive shift; others described it as defining their way of being in the classroom. One even described the curriculum resource as "THE change agent at our school site." Others shared these comments:
"Before, I thought I was an effective teacher for certain reasons that were not directly related to student-centered learning. Looking back, I was limited in my knowledge of how to take student learning to deeper levels."

"I'm so thankful for the difference it has made at our school as I have watched a culture of learning shift as teachers and students engage in this powerful process."

"I knew I was a good teacher and [the curriculum] gives me side-by-side support so I never feel alone. Using the resources provided has promoted a collaborative culture in our school. We now have a common platform on which we can promote student achievement together through discussion and problem-solving! It seems that what used to be known as 'my students' are now being known as 'our students.'"

Rigor
Having an educative resource not only helped teachers have a better understanding of what rigor was, but also helped them support their students in engaging more productively with rigorous content. Here are some comments that were shared:
"Students could do things in isolation but didn't always transfer to independent application. In fact, the curriculum and resources I was using [before] didn't emphasize or provide effective ways to support students on the independent level, so I didn't even realize what was missing."

"Turns out [the teachers'] idea of rigor was students doing copious amounts of written work, and introducing difficult skills earlier. They didn't recognize the cognitive load on students in explaining their thinking to partners or in being required to build on others' thinking."

Facilitation
Teachers described more skill at facilitating complex conversations and a recognition of the power of facilitation in student learning:
"[The curriculum] helps me take on the role of the facilitator so students are doing the work."

"I had never seen it done well, and even if I had, I didn't have resources to support my own growth towards such complex facilitation."

"They recognize the importance of their facilitative stance and this ability to lead student conversation transcends the day. They lean into the work of creating dialogic classrooms, where student conversation and peer feedback are focused and authentic."

"I also feel the curriculum helps me take on the role of the facilitator so students are doing the work.
This social media conversation was a true learning experience for me. One reading coach summed it up nicely: "The supports for teachers embedded in the program, which are wide and varied, lift the level of each teacher, whether they are new to the classroom or veteran teachers of reading and writing. Not only do they have clarity on lesson delivery, but the structure of the programs allow them to teach with intentionality along a continuum of content." Using an educative resource supports not only the understanding of content knowledge but also a teacher's learning of the more subtle aspects of effective instruction—stance, rigor, and facilitation. In the words of one of my Facebook friends, "For all these reasons and more, teaching this way has made me a better teacher."