Collaborative Classroom Book Clubs for Grades 3-6
Support Student Literacy, Strengthen Independent Reading, and Empower Small Group Learning
When students love books, they can't put them down and can't resist talking about them. Inspire a love of literacy and explore a whole new way for readers to learn together through Collaborative Classroom Book Clubs.
Utilizing research-based best practices for small-group reading, Collaborative Classroom Book Clubs provide the foundational lessons for setting up independent, student-led book clubs and a variety of mini-lessons that can be used to support and deepen book discussions.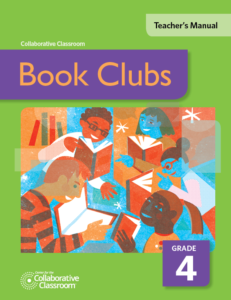 Constructed as a collection of lessons centered around exciting texts, the foundational lessons and structures are what every teacher needs to run a successful and vibrant book club with little prep time, and robust results.
With an innovative structure, six teacher-led foundation-setting lessons (approximately 25-30 minutes) focus on the social interactions and independent thinking students need to lead their own thoughtful book discussions.
Students read and journal between book club meetings and gradually take on responsibility for the success of the club. After the foundation-setting lessons, the teacher meets with the group for mini-lessons as needed, allowing for meeting with other groups or conducting one-on-one conferences.
Great for use as either a companion to Collaborative Literacy or as a stand-alone program, Collaborative Classroom Book Clubs for grades 3-6 combines great books, differentiated small-group and individualized reading, and social skills development.
What's Included:
A Teacher's Manual containing lessons for Small-group Reading and Book Clubs
Sets of carefully selected, grade-appropriate fiction and nonfiction texts used during the lessons
Digital resources including articles, assessment forms, and images