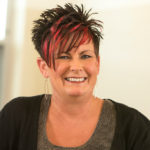 Author and consultant Tanny McGregor is one of our favorite educators and thought partners. We're honored to share this blog post by Tanny, which she has written in anticipation of our joint sessions at the upcoming State of Maryland Literacy Association (SoMLA) virtual conference on April 17th.
Registration
is open to all, so please come and learn with us!
For more than three decades I've been in pursuit of something invisible, elusive, and difficult to measure. I've wondered about it, written about it, and tried to quantify it. Even though I am closer to understanding it now than ever before, I'm still deeply curious about it and seek to uncover more about it with every lesson I teach.
If you're familiar with my work, you already know what I'm talking about here: reading comprehension. Better yet, let's think of it in terms of something more personal: a student's thinking.
In Service of Deeper Comprehension
As an author and consultant, I learn with students and teachers around the globe. Whether I'm leading a workshop, co-planning with a literacy team, or writing a blog post like this one, my work is in service of deeper comprehension. I want to give students a variety of options in which they can share their thinking, equip them with the language to do so, and expose them to content that is worth thinking about. Nothing matters more than their thinking!
My quest to support students and teachers as they make their thinking visible led me to the resources provided by the nonprofit Center for the Collaborative Classroom.
I've long written about using realia, art, music, and movement with students as we pave a pathway to deeper comprehension (Comprehension Connections: Bridges to Strategic Reading, Heinemann, 2007). Over and over again, teachers have asked me how to scaffold deeper thinking, using the ideas in my books and linking them to meaningful experiences in text.
With the discovery of  Collaborative Classroom's Making Meaning lessons, a component of the Collaborative Literacy suite (and also now with Book Clubs), a natural partnership took hold. My life's work dovetails wonderfully with the research-based practices and comprehension lessons found here. At the intersection of critical thinking and a deeper understanding of text, a lifelong love of reading abounds.
Learn with Us at SoMLA
Later this month, the State of Maryland Literacy Association (SoMLA) will host its 49th annual (virtual) conference. I'm honored to present three sessions in partnership with Elizabeth W. English and Center for the Collaborative Classroom. Together we provide the research, strong pedagogy, and practical lesson ideas that teachers need across grade levels and subject areas.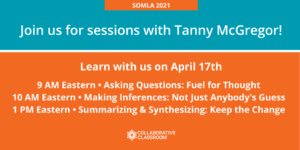 On Saturday, April 17th, we'll explore comprehension through the lenses of Questioning, Inferring, and Synthesizing.
Registration for this virtual conference is open to all—including educators outside of Maryland.
Are you looking for ways to open up the possibilities for the expression of thinking and how those options overlap with important content?
Are you seeking to maximize the opportunities for your students to deeply understand text?
If so, partner with us. We'd love to have you along for the journey.
***
Internationally-known teacher and conference speaker Tanny McGregor brings over 30 years of professional experience to her popular sessions. Her workshops are known for their creative and engaging style. A classroom teacher for many years, Tanny has also served as a literacy coach, gifted intervention specialist, and preK-12 staff developer.
Tanny is the author of three books, Comprehension Connections: Bridges to Strategic Reading (Heinemann, 2007), Genre Connections: Lessons to Launch Literary and Nonfiction Texts (Heinemann, 2013), and her newest release, Ink & Ideas: Sketchnotes for Engagement, Comprehension, and Thinking (Heinemann, 2019). Tanny was also a contributor to the seminal work, Comprehension Going Forward: Where We Are/What's Next (Heinemann, 2011). In addition to writing and consulting, Tanny serves as a teacher on special assignment for West Clermont Schools in Cincinnati, Ohio.